Moishy was very responsive. He answered multiple questions and was very helpful. He expedited our order to make sure my ring arrived in time for a family event. I absolutely love my ring and my mom's stone looks perfect in it which makes it even more special.
Maureen Reilly

May 18, 2022
Wonderful experience! I was very nervous about doing anything online but Moishy kept me and my partner in the loop about our matching engagement rings throughout the entire process. I couldn't be happier about the ring and I cannot wait to propose with it. I can't post a photo yet because I don't want to ruin the surprise for my partner but it's perfect!
Ering WC
Charlotte, NC
May 16, 2022
Have worked with MDC & Moishy since 2015 for my wife's engagement ring, wedding band and most recently eternity band. Moishy has always made it easy and gone the extra mile!
Adrian B
Calgary Alberta, Canada
April 14, 2022
We have used MDC Diamonds NYC several times, first for my engagement ring, then the wedding band and another band to match and now my 15th anniversary ring! All the ring designs were custom made to my husband's specifications and created beautifully! The friendly service and constant communication is excellent!! We are very pleased with the results! Highly recommend ??
Deb S
Helper, UT
April 14, 2022
Great people and a great place. I received a better diamond and band from here! They customized it to my exact image of what I wanted. The clarity is great and overall amazing. Thank you
Teddy W
New Jersey
March 30, 2022
I have always been nervous about ordering something from the Internet. But I have to say, I have to say, I have had the very best experience experience that a person can possibly have. I ordered my fiance's engagement ring and I have got to say it is the most beautiful ring I have ever seen in my life. Thank you to the designers and Moshiy for making my dreams and hers come true.
Claudette P
Tampa, FL
March 22, 2022
I had purchased a ring before from MDC diamonds and as much as I loved it, it was lacking something extra, something personal. Moishy helped in redesigning it to make it even more meaningful than it already was to me. I was a bit skeptical because it was hard to express what I had in mind, but he along with his brilliant team redesigned it almost exactly to what I had envisioned. I also gave him and his team the added challenge of making my favorite costumed ring into a real one. I can honestly say both rings have far exceeded my expectations! Thank you so much! I Love it! I LOVE IT!! I LOOVEE IT!!!
Reeanna
Ronkonkoma, NY
March 18, 2022
MDCDiamondsNYC did an AMAZING job on my wife's wedding set. Exceeded our expectations! Moishy was very attentive and available during the entire process of designing the set. I highly recommend MDCDiamondsNYC for any of your jewelry!!
Josh M
WARNER ROBINS, GA
March 07, 2022
MDC Diamonds is a great place to get quality diamonds at a reasonable price. I worked with the owner directly, he was very professional and kept in contact throughout the process of him making my wife wedding ring. I look forward to doing business with him again very soon.
Darryl K
Jonesboro, GA
February 22, 2022
I love everything about my experience with this business top to bottom thank you MDC AND God Bless you
Aaron L
Ness City, Kansas
February 14, 2022
They are excellent to work with!! When I received my ring all the paperwork was in order and the ring was more stunning than I could have imagined. They are a pleasure to work with. Made the process very easy. Will definitely use them again!
Mark T
Piney Flats, TN
February 08, 2022
My husband and I have purchased several items from MDC. We are always satisfied and receive excellent customer service.
Tiffaney B
Matawan, NJ
January 01, 2022
As a returning customer, I can attest that all three orders I've placed with this company were exceptionally handled. The two custom rings I had designed are beautiful, and the quality of the craftsmanship unparalleled. On top of that, their communication, attention to detail and turnaround time was incredible. There's no other jeweler I'd take my business to.
Sean D
North Hollywood CA
December 14, 2021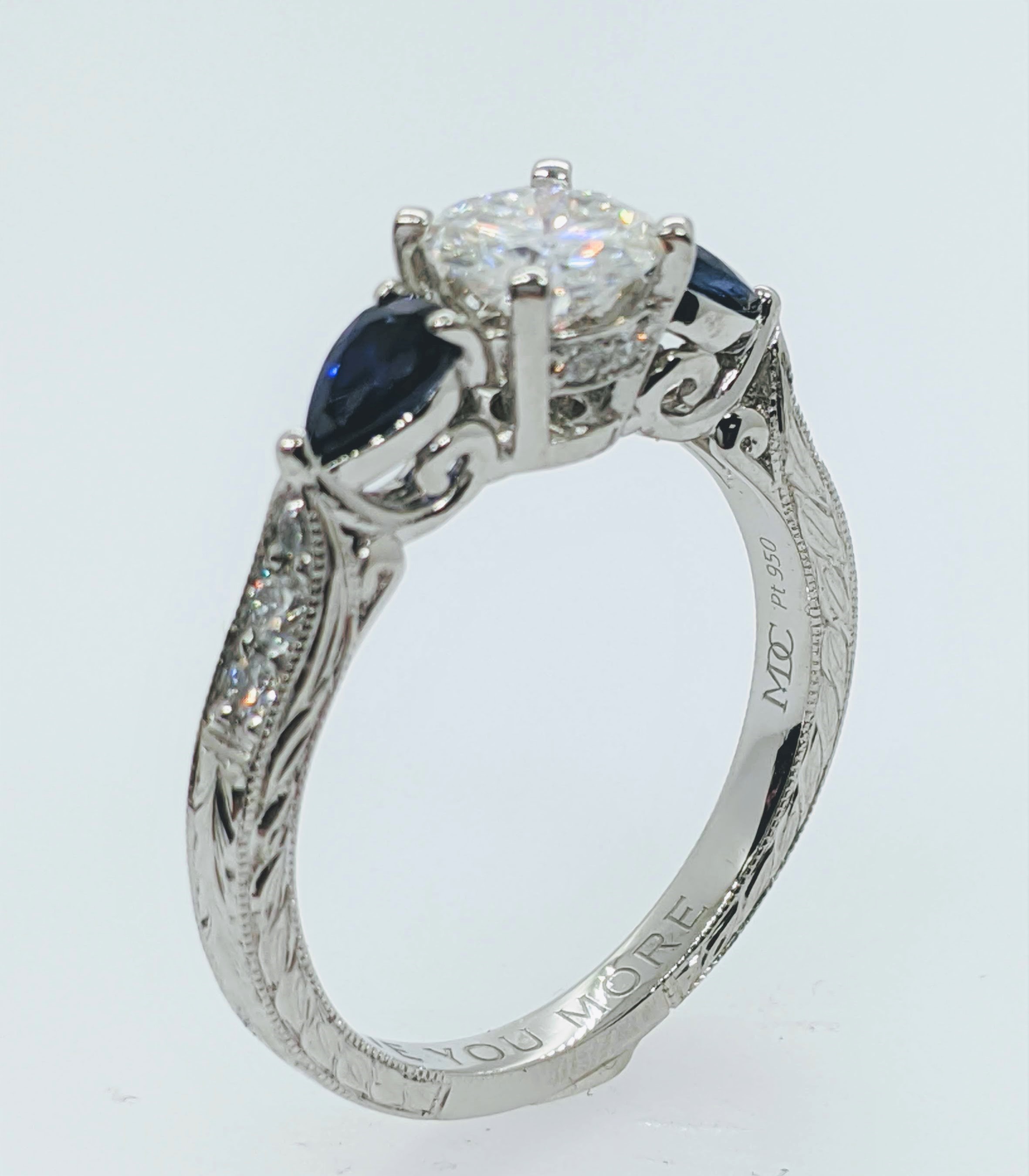 I'm a first time ring buyer, and had a great experience with the customer service. Moishy offered to have a phone call with me, answered all my questions, and stayed connected throughout the ordering process.
Alex R
Eagleville, PA
December 13, 2021
My fiance and I are in love with this ring! It looks exactly as pictured in the listing and is very high quality. The matching wedding band was also very stunning and complimented the engagement ring well. The seller was friendly and accommodating, provided a customized inscription, and shipped the rings in approximately 2 weeks, as requested. I would definitely order from Moishy at MDC Diamonds again!
Nick S
HALETHORPE, MD
December 13, 2021
Amazing service! Did an awesome job on my wife's wedding ring.
Thomas T
Cedar Grove, NC
November 15, 2021
Always a great experience dealing with Moishy and his team. I have gone to him for years for all our custom jewelry needs. This time he took my original round stone out of my first wedding set and made it into earrings for me. Sourced a new stone and made the settings. He took my new set and replaced progs and dipped in Rhodium for me. Fast, professional and transparent. Thanks again!
Sara K
Sterling, VA
November 10, 2021
I was devastated when my heirloom engagement ring broke and I lost the diamond. A friend then referred to Moishy at MDC Diamonds. From just a few photos of my old ring, he was able to price out a bigger and better option within my budget, he then dealt with insurance for me and kept me in the loop the entire time. After just 2 weeks, I received my gorgeous new ring and could not be happier. I get so many compliments and will be referring Moishy to anyone who asks me about my stunning ring.
Nadiia L
Riverdale, NY
November 10, 2021
Love my ring created by MDC Diamonds. They were great to work with!
Stephen Dertz
Sanibel, Florida
November 08, 2021
Moishy was great to work with. The ring turned out great and the service was timely. The only problem was Fedex messed up the initial delivery, hardly MDC's fault at all.
James P
PELHAM, NH
November 05, 2021
I found a setting I loved on their website, but had no idea what I was doing. I contacted Moishy through the WhatsApp number that was provided on their website and received a prompt response. And then within a day and a half, I had put a down payment on the ring! Moishy was able to find me the PERFECT diamond within my budget and it is STUNNING! Everyone I've showed the ring to has literally gasped because of how beautiful it is. When I saw it for the first time in person, even I was taken back at how beautiful it is. No regrets and can't wait t propose!
Kara P
Holbrook, NY
October 10, 2021
Words cannot describe how happy we are with my ring purchase. Ordering online can be concerning, but, with so many outstanding reviews, we went for it. The ring is beyond gorgeous and looks perfect with my wedding rings. Each diamond comes with its own GIA information packet along with a certified appraisal. We will DEFINITELY will order again!!
Kelly W
Palm Beach Gardens, FL
September 20, 2021
My second time dealing with MDC and Moishy. Both times I have received exactly what was represented at a much better price than available elsewhere. Service and communication were efficient and prompt. I highly recommend them over the better advertised websites.
Donald F
Baltimore, Maryland
August 28, 2021
My experience with MDC Diamonds and specifically with Moishy was exceptional!!! The design, the quality and the service was beyond what is even expected these days! Thank you so much for helping me to spoil my husband for his 50th Birthday! My husband got my engagement ring from MDC 14 years ago and you will continue to be our go to for jewelry in the future.
Lydia H
Kelowna BC
August 20, 2021