My husband and I have purchased several items from MDC. We are always satisfied and receive excellent customer service.
Tiffaney B
Matawan, NJ
January 01, 2022
As a returning customer, I can attest that all three orders I've placed with this company were exceptionally handled. The two custom rings I had designed are beautiful, and the quality of the craftsmanship unparalleled. On top of that, their communication, attention to detail and turnaround time was incredible. There's no other jeweler I'd take my business to.
Sean D
North Hollywood CA
December 14, 2021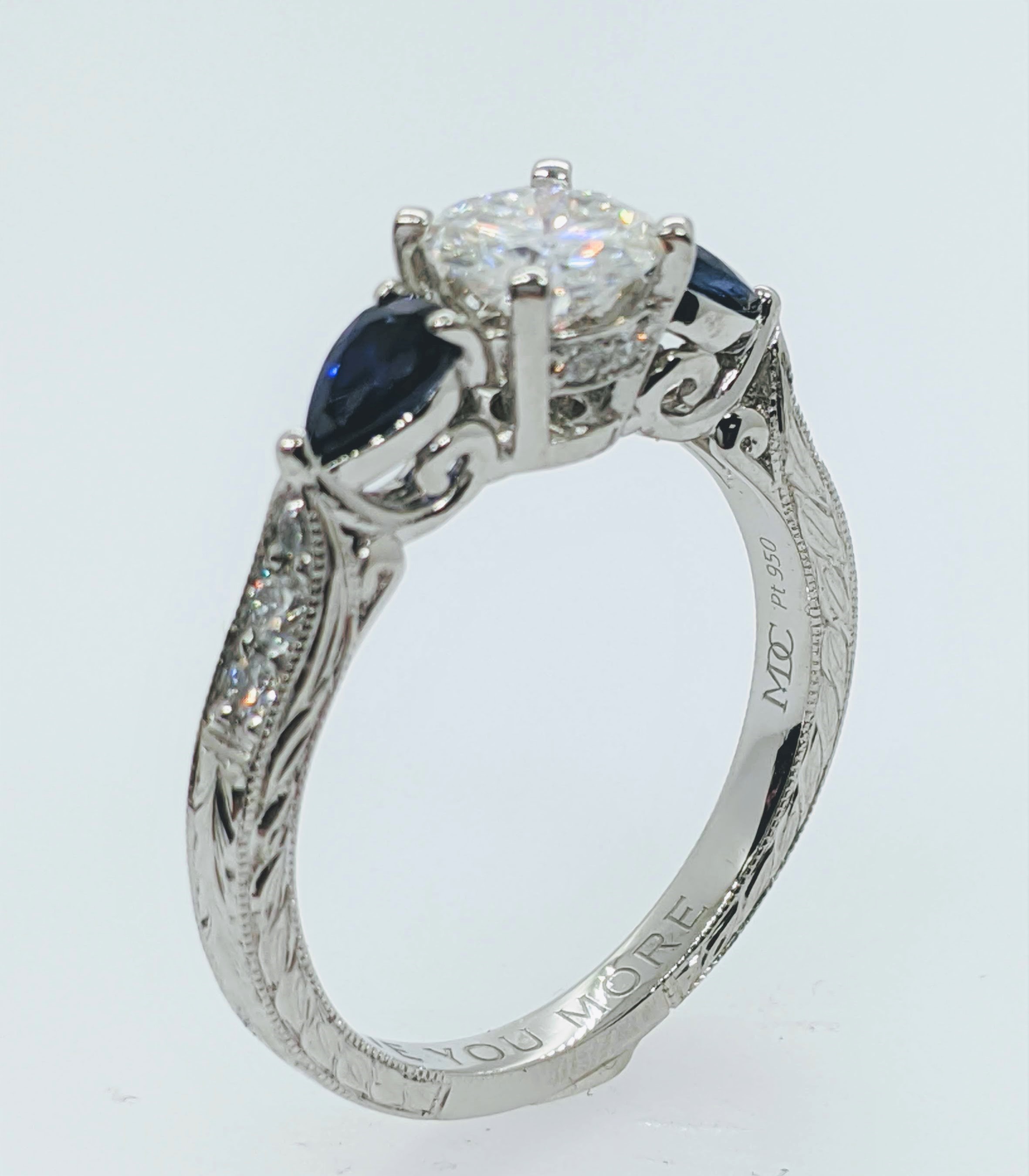 I'm a first time ring buyer, and had a great experience with the customer service. Moishy offered to have a phone call with me, answered all my questions, and stayed connected throughout the ordering process.
Alex R
Eagleville, PA
December 13, 2021
My fiance and I are in love with this ring! It looks exactly as pictured in the listing and is very high quality. The matching wedding band was also very stunning and complimented the engagement ring well. The seller was friendly and accommodating, provided a customized inscription, and shipped the rings in approximately 2 weeks, as requested. I would definitely order from Moishy at MDC Diamonds again!
Nick S
HALETHORPE, MD
December 13, 2021
Amazing service! Did an awesome job on my wife's wedding ring.
Thomas T
Cedar Grove, NC
November 15, 2021
Always a great experience dealing with Moishy and his team. I have gone to him for years for all our custom jewelry needs. This time he took my original round stone out of my first wedding set and made it into earrings for me. Sourced a new stone and made the settings. He took my new set and replaced progs and dipped in Rhodium for me. Fast, professional and transparent. Thanks again!
Sara K
Sterling, VA
November 10, 2021
I was devastated when my heirloom engagement ring broke and I lost the diamond. A friend then referred to Moishy at MDC Diamonds. From just a few photos of my old ring, he was able to price out a bigger and better option within my budget, he then dealt with insurance for me and kept me in the loop the entire time. After just 2 weeks, I received my gorgeous new ring and could not be happier. I get so many compliments and will be referring Moishy to anyone who asks me about my stunning ring.
Nadiia L
Riverdale, NY
November 10, 2021
Love my ring created by MDC Diamonds. They were great to work with!
Stephen Dertz
Sanibel, Florida
November 08, 2021
Moishy was great to work with. The ring turned out great and the service was timely. The only problem was Fedex messed up the initial delivery, hardly MDC's fault at all.
James P
PELHAM, NH
November 05, 2021
I found a setting I loved on their website, but had no idea what I was doing. I contacted Moishy through the WhatsApp number that was provided on their website and received a prompt response. And then within a day and a half, I had put a down payment on the ring! Moishy was able to find me the PERFECT diamond within my budget and it is STUNNING! Everyone I've showed the ring to has literally gasped because of how beautiful it is. When I saw it for the first time in person, even I was taken back at how beautiful it is. No regrets and can't wait t propose!
Kara P
Holbrook, NY
October 10, 2021
Words cannot describe how happy we are with my ring purchase. Ordering online can be concerning, but, with so many outstanding reviews, we went for it. The ring is beyond gorgeous and looks perfect with my wedding rings. Each diamond comes with its own GIA information packet along with a certified appraisal. We will DEFINITELY will order again!!
Kelly W
Palm Beach Gardens, FL
September 20, 2021
My second time dealing with MDC and Moishy. Both times I have received exactly what was represented at a much better price than available elsewhere. Service and communication were efficient and prompt. I highly recommend them over the better advertised websites.
Donald F
Baltimore, Maryland
August 28, 2021
My experience with MDC Diamonds and specifically with Moishy was exceptional!!! The design, the quality and the service was beyond what is even expected these days! Thank you so much for helping me to spoil my husband for his 50th Birthday! My husband got my engagement ring from MDC 14 years ago and you will continue to be our go to for jewelry in the future.
Lydia H
Kelowna BC
August 20, 2021
Great working with the team...very responsive, easy to email and text, rapid response and updates and great pricing. Ring even needed an extra stone which Moishy added at 0 new cost! And ring itself is beautiful.

Ryan D
Highland Park IL
June 24, 2021
I spotted my dream ring on facebook. I used Google Lens to search for my dream ring and I found it at MDCDiamonds. I live for rubies so I sent an email about customizing my ring with the beautiful red gems. I waited and an email came very fast. It could be done in rubies! Budget was discussed and a ruby to fit my ring was found. It is the most beautiful ring I have or will ever own. I love every detail on my ring. The butterflies with ruby wing details, GOLD band, side rubies, heart shape ruby, size, every thing, is 100% my dream ring come true.
Music Y
Sherman Oaks, CA
June 18, 2021
MDC Diamonds is a true 5 star company with old world customer service. I asked Moishy if he could make something custom and he delivered it. My fiancé absolutely loves her ring and anytime I need something else made, I will continue to come back to MDC.
Richard W
DELTONA, FL
May 26, 2021
We had our engagement and wedding bands custom made through MDC Diamonds. They blew us away. Moishy was on top of every aspect of the process. I will definitely highly recommend MDC.

Christopher W
CORPUS CHRISTI, TX
May 19, 2021
I contacted MDC just five days ago because my wedding is tomorrow and in the past two months we have received/returned two crooked and damaged custom claddagh rings from two different local jewelers near us. The website says to contact for rush orders and my wedding was only six days away so I decided I had nothing to lose to at least inquire. Moishy got back to me the same day (even though it was on a Sunday and not store hours) and managed to get my PERFECT claddagh ring to me the day before my wedding! I was beginning to get discouraged because the other two jewelry stores we went to really gave us the run-around and I nearly had to change our ceremony to exclude a ring exchange. I am so beyond grateful that they were able to rush my order and produce a flawless ring! Moishy is seriously a miracle-worker and I wish I could give them 1,000 stars! MDC has seriously made my special day perfect.

Kaitlin O
Willoughby, OH
May 02, 2021
If you are like me, please be assured that MDC Diamonds is where you need to get your ring. Such a perfect and flawless experience for a first time purchaser of an engagement ring! I didn't really know what I was doing but Moishy helped me all along the way. He went above and beyond! He was incredibly accommodating and very communicative. Making the whole process very comfortable and confirming for something so crucial. The cherry on top - my fiancé loves the ring! Thank you Moishy! And thank you MDC Diamonds! I'm so beyond happy that I found you.
Lindon C
Tucson, AZ
April 26, 2021
Had the pleasure of making my purchase from MDC and it was a great experience , Moishy was very thorough and helpful to a beginner like myself who had no idea how to even begin differentiating between the different diamonds. He took his time explaining everything and showing different styles. He and Gladys were also very quick when it came to finalizing the design and showing the final product which looked amazing! Highly recommend.
Alex K
New York, NY
April 21, 2021
So glad to receive my gorgeous "badge of honor" ring today. Moishy listened to what I wanted and designed the most gorgeous diamond and platinum ring! It represents my three beautiful children here on earth. I wouldn't hesitate to order jewelry from MDC diamonds again.


Shari B
Fairfax, VA
April 01, 2021
MDC was a great help getting me what I wanted for my fiancé. I appreciate all the help they gave me in diamond decisions and bands. I recommend MDC if your looking for unique diamonds and bands.
Kyle K
Ohkay Owingeh, NM
March 12, 2021
Its is our 25th wedding anniversary. My wife had hinted that she wanted a "cocktail" diamond ring.....yellow diamond. Who am I to say no.....right.

I contacted Moishy in December 2020. I gave him the go ahead in January time frame. I had googled a yellow diamond ring and found a beautiful ring...oval yellow diamond with Cadillac diamonds flanking the center diamond. On top of that the platinum setting had embellishments throughout it. It was and is a very CLASSIC setting.

Well.... the ring arrived today. It is EXACTLY as the pictures I had furnished to Moishy. I live in the West Coast and MDC is in NYC. So there is the distance....and I did not even talk to him on the phone. The pictures were very clear and made it possible to replicate. But it still needed to be replicated.

AMAZING job.....truly. I could not be happier with their service and would not hesitate to recommend MDC to anybody. Truly a class act business.

Thank you again......
Craig H
Mission Viejo, CA
February 18, 2021
MDC and Moishy created a very positive engagement ring buying experience. They are truly on your side in helping you to find the right ring for your budget. The ring Moishy found is phenomenally gorgeous.
Emil S
Los Angeles, CA
February 16, 2021